Welcome to the North American San Shin Kai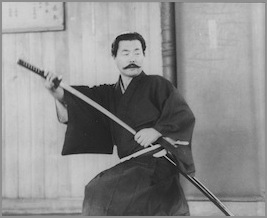 Mitsuzuka Takeshi believed that wherever people where, if they could look up in the sky and see the same sun, moon, and stars, they could be joined in the practice of iaido. He traveled the world teaching swordsmanship to those eager to learn, in order to make this dream a reality. We, the people of the North American San Shin Kai, are a small part of his legacy.

---
San Shin Kai is the Iaido federation organized in North America by Mitsuzuka Takeshi Sensei and presently headed by Roger Wehrhahn, Shihan.

North American San Shin Kai offers seminars and training in Muso Shinden-ryu Iaido. To learn more about our organization, please read our Mission Statement. If you are interested in becoming a member, visit our membership page.

To contact our administrative headquarters, or with questions about San Shin Kai, please email Shihan Roger Wehrhahn at mtteach@ptd.net.


Sad News
It is with deep sadness that I inform you that Mitsuzuka Munehiro Sensei's mother, Hiroko San passed away on the morning of July 15th 2016. She passed quietly and peacefully in her sleep. She was a wonderful woman and a dear friend to all of us. We will all miss her! Our thoughts and prayers are with the family.
Roger Wehrhahn
Summer Camp: August 26-28, 2016 - registration postmarked by Aug. 10!



Last updated: August 19 , 2016
Site Maintenance by Craig Hocker